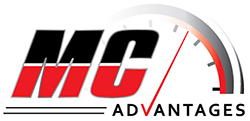 Since 1991, MC Advantages has been building strong relationships with dealers and suppliers in order to deliver unmatched customer service to everyone we serve. We maintain a sharp focus on high performance motorcycle parts so you get the best of what you need.
Whether you're a dealer or a do-it-yourselfer, MC Advantages can help. We carry top brands like Andrews Products, Dynatek, Hot Cams, Hot Rods, and many more.
MC Advantages: Providing track-tested, show-winning solutions to tune up your ride or take it to the next level.