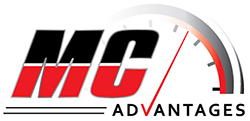 MC Advantages
1980 NW 94th St, Suite D
Clive, IA 50325
Phone: 515.986.5987 
Toll-Free: 1.800.726.9620
Fax: 515.270.5022
Please send all general inquiries to: Sales@MCAdvantages.com
MC Advantages is a dedicated wholesale distributor of high performance motorcycle parts. Whether you're tricking out a stock H-D® or building a custom chopper, we provide track-tested, show-winning solutions and specialties for your project.
Since 1991, MC Advantages has been fortunate to build great relationships with our dealers and suppliers as we constantly strive to deliver unmatched customer service to their customers. Along the way we have developed a unique market niche by maintaining a sharp focus on the high performance sector of the motorcycle parts market. As a distributor, MC Advantages sells to approved dealers only and actively supports the traditional dealer/distribution network.
If you're a prospective dealer we look forward to sending you a catalog and dealer application to get you set up for ordering our products. If you're an independent builder, we will either direct you to one of our existing MC Advantages dealers in your area or we will work to set up your preferred dealer so you can buy through them. Either way, call us today and become part of our growing list of satisfied customers.